Caring for your collar is easy peasy!
Chances are it will get dirty in a degree of a speck of mud to wallowing in a mud puddle (we've all seen those videos… oh dear!). When dirt happens, toss your collar right into the wash on a regular or delicate cycle.
Yup, even the silks.

(Trust us, we've run silks and polyesters both through the wash – the above collar has been washed at least twice – the red is still vibrant and the touch is still silky/smooth!)
When they are finished in the wash, lay flat or hang to dry. Once dry, redress your pup and let the adventures continue!
Likewise, the bandanas and circle skirts are super washable! (If there's ironing instructions, they'll be noted!)
---
MATERIALS
What is polyester?
— Polyester is a synthetic fiber, often mixed with cotton in clothing. It has high water, wind and environmental resistance compared to plant-derived fibers (ie DURABLE!) and is highly stain resistant. Have a dog who's rough & tough on collars or likes water/mud? Pick a polyester material pattern!

What is silk?
— Silk is a natural protein fiber and has a smooth, soft texture that isn't slippery like synthetic materials. One of the strongest natural fibers when dry! For that touch of luxury, pick a silk material. Be aware: silk is absorbent to moisture (this means you could end up with a stinkier collar from swimming).

What is viscose?
— Viscose is a semi-synthetic fiber, often known as rayon. Can be made to simulate natural fibers such as cotton, silk and wool.
** Wash by hand or on a gentle cycle. Avoid twisting & wringing out. Lay flat to dry.

What is acetate?
— Acetate is a synthetic fiber made from cotton or tree pulp. It holds similar characteristics to rayon. Often found in linings for suits, as material for wedding gowns and in fabrics like brocades and taffetas. It breathes and wicks, though isn't the best in abrasive scenarios.
** Wash by hand or on a delicate/hand wash cycle. Lay flat to dry.
---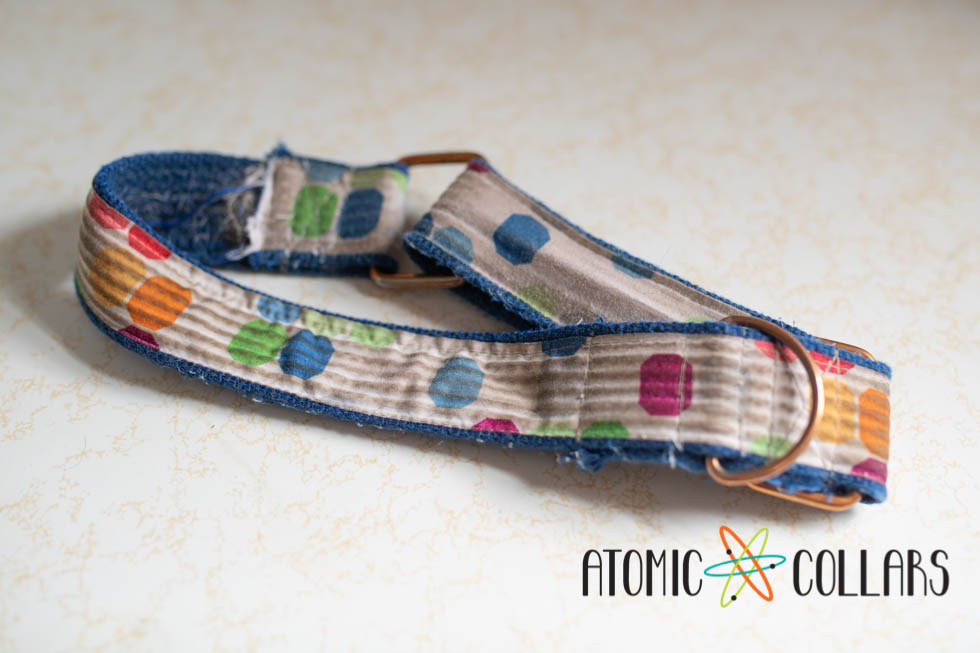 What happens if my collar wears out?
It will happen. Dirt & mud won't wash out (light colored collars are going to be more prone to this), a snag will turn into tears that fringe & flap in the breeze as your dog runs in the yard or dog park, your collar will get tired from use.
Don't just toss it in the garbage! Contact us at hello@atomiccollars.com, ship the old collar to us and we'll recycle the hardware into a new collar. (If the hardware is shot, best to just get a whole new collar.) Heck we'll even knock a little off the price of a new collar.