You get to be well-dressed, why shouldn't your dog have a wardrobe of BOMB collars and be well dressed too?
Know what dapperly declares well dressed? Neckties.
Those classic chunks of fabric tied in elaborate knottings at the throats of men, adorned in various patterns (some overly bold even for their retro days when new) and materials from every man to elegant (polyester to silk).
We started with neckties.
These  led way to additional articles of clothing, bedsheets, curtains and one zippy retro kitchen towel (Orange You Glad). Each material becoming  the foundation for the creation of a BOMB collar for your pup.
The upcycling spawned into more dapper styles of accessories – bandanas briefly, scarves recently.
Where are they made?
These hunks of awesome are created by hand in the middle of the frozen land of Minnesota (pronounced Minne-SNOW-ta in winter) and shipped to dapper dogs all around the country.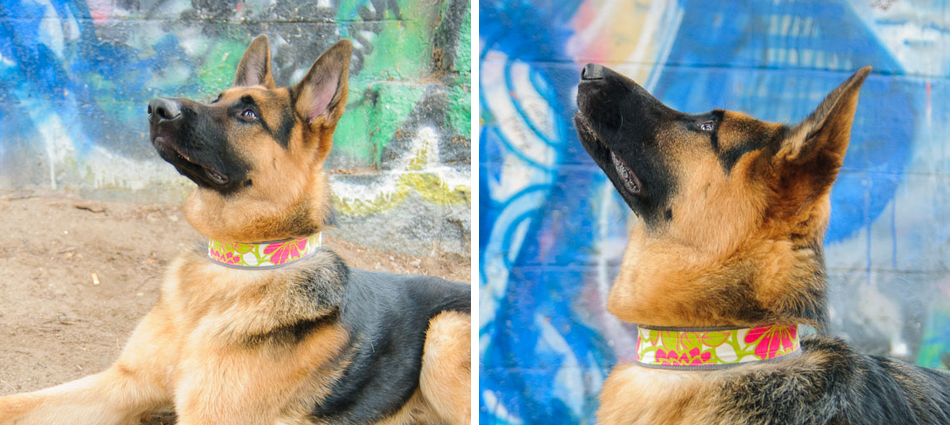 Martingale or Side Release Buckle?
Not sure which style to pick? Here's what you need to know:
Originally designed for sighthounds (ie, greyhounds, whippets, Italian greyhounds, etc) as their necks are larger than their heads. Regular flat buckle collars can be slipped out or backed out of, granting the little speed demons wide open spaces to run to their hearts content.
Martingale collars "cinch" tighter when pressure is put on the smaller loop, similar to a choke chain, but in a gentler way. This snugs the collar up on the neck, preventing the wearer from slipping or backing out of the collar.
*When sizing for a martingale, make sure it will fit over your dog's head. Measure the widest part and make sure the collar size fits within that range. Around here Bender has an 18 inch noggin, is a bit smaller at the top of his neck. Anything smaller than 18 inch won't go over that big ol lughead!
*If your dog wears a collar in their crate, make sure there are no tags on the control loop D ring (bigger loop) of a martingale collar.
If the tags got caught while on the bigger control loop the collar could cinch and cause strangulation in a struggling dog. 
ALL of our martingale collars include a non cinching D ring for tags.  
A cousin to the martingale, limited slip collars are designed to cinch. This can help keep a pup from backing out of the collar or give an extra correction for pullers. 
Unlike martingales, there is no droopy at rest control loop, Limited slips feature a D ring threaded through an O ring that slides to a 2nd D ring. At rest, they lay flat. 
Each limited slip is approx 2.5-3 inches of cinch. 
Wearing a limited slip: are you a left hand or right hand walker?
For the limited slip to work correctly it needs to cinch upwards closest to you.
 If your dog walks to your right, the collar would have the 2nd D ring on the left side towards you.
If your dog walks on the left, the collar would have 2nd D ring on the right facing the side towards you. 
Classic and classy, the side release buckle collar is a staple in a dog's wardrobe. Easy to put on with a quick clip, easy to undo with a pinch. One D ring for leash and tag attachment plus a slider for sizing adjustments make up all the components of a side release buckle collar.
Shipping: flat rate $5 / shipped throughout the United States
• Ready to Wear Collars & Scarves:
will be packaged and shipped in a week from ordering.
• Bespoke / Custom Made Collars, Scarves & Circle Skirts:
these need to be brought to life for your dog – this will take 2-4 weeks 
(holiday season will extend creation & ship time to 4-5 weeks, plan accordingly)
Collars are available in 2 webbing widths: 1.5 inch & 2 inch 
Scarves are available in casual weight and heavy weight. 
— Casual will be lightly lined, while heavy weight will feature warm sherpas & minky fabric. 
How to size for a collar:
— Flat buckle: measure around your dog's neck, make sure there's a wee wiggle room – two to three fingers is good. 
Match to size you need: 
If your dog measures 16″ in or less, the small size is perfect!
If your dog measures 12″ to 18″, a medium or large size will fit nicely!
If your dog measures 13″ to 20″, a large or medium will work!
If your dog measures 18″ to 22″, a large or xlarge will be perfect!
— Fitting a martingale is just as easy!
Measure around your dog's neck with a couple fingers worth of spare wiggle room. 
** Note: if you have a blocky headed dog make sure to measure around their head as well!
That way the martingale will slide over their noggin and not get stuck on right above their eyebrows giving them a funky facelift!
(Bender the pittie has an 18 inch neck and an 18 inch wide head – anything smaller won't fit over his giant noggin even though his neck is an inch or two narrower!)
Caring for your collar is easy peasy!
Chances are it will get dirty in a degree of a speck of mud to wallowing in a mud puddle (we've all seen those videos… oh dear!). When dirt happens, toss your collar right into the wash on a regular cold or delicate cold cycle.
Yup, even the silks.
(Trust us, we've run silks and polyesters both through the wash – the above collar has been washed at least twice – the red is still vibrant and the touch is still silky/smooth!)
When they are finished in the wash, lay flat or hang to dry. Once dry, redress your pup and let the adventures continue!
Likewise, scarves and circle skirts are super washable! (If there's ironing instructions, they'll be noted!)
*** Cashmere scarves will need to be hand washed, otherwise they run the risk of felting and shrinking badly. 
Meet the common Upcycled The materials we use:
Polyester
— man made / synthetic found frequently in clothing & bedding. It has high water resistance and is highly stain resistant.
Have a dog who's rough & tough on collars or likes water/mud? Look for the material to be listed as 100% polyester.
Silk
–Silk is a natural fiber and has a smooth, soft texture. Silk is one of the strongest natural fibers when dry!
For that touch of luxury, pick a silk material. Be aware: silk is absorbent to moisture (this means you could end up with a stinkier collar if your pup delights in swimming).
Cotton
— natural fiber, often found in clothing and bedding. Pairs well with polyester. Cotton breaths, doesn't retain odors and is super easy to wash!

Cashemere
— natural fiber, one of the warmest and softest materials, a definition of luxury. It breaths, wicks moisture, is lightweight, and not itchy. 
This may NOT be the best option for the mud loving, rough and tumble dog as the material is delicate & needs a little more care in washing. 
Other Materials you may encounter:
— Wool, acetate, rayon, Lyocell (a type of rayon), acrylic, 
My dog wore out his collar…
Yes, the collars can wear out. If this happens, let us know! Send us the collar, pick your new found fabric and we'll use the hardware in a brand new BOMB collar for your pup! (If the hardware is shot, best to get new!)
Every Atomic Collar that gets worn out can have its hardware recycled into a new collar for half off the cost of a new collar! Mega spiffy!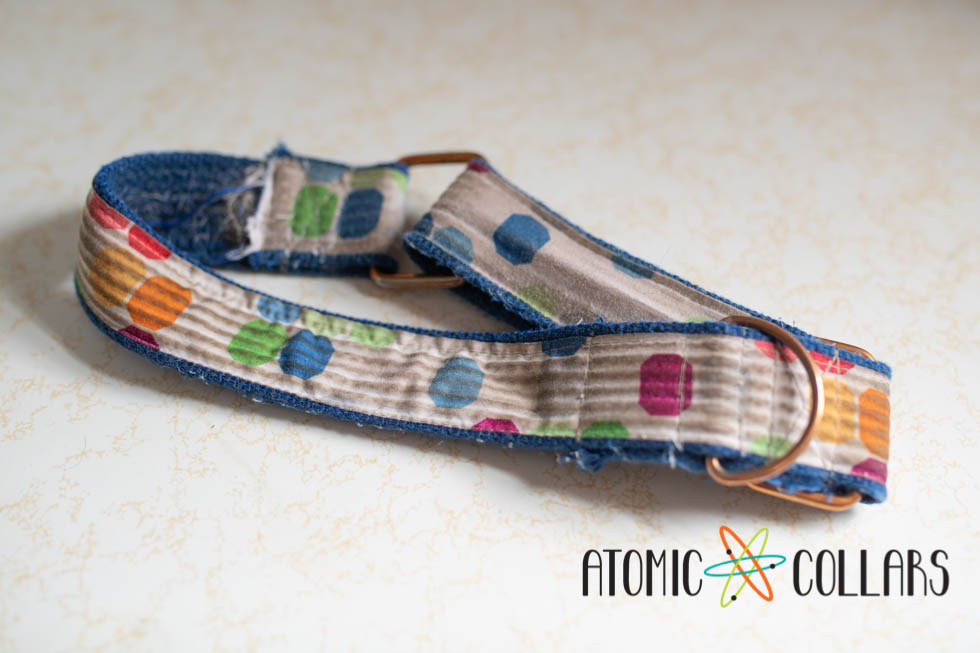 THE BEGINNINGS OF ATOMIC COLLARS.
The year: 2015. The day: a blistering cold February day in the middle of frozen Minnesota. Foster pittie Bender (who ended up being a foster fail) was in need for a collar in the martingale style that was more than the basic, narrow width red, blue or black nylon options at the local big box stores. 
Not to mention, finding "cute" collars for big dogs was a task in itself (put a 1 inch wide collar on an 85 lb rottie and it looks like a teenie weenie G string!). 
---
To solve the problem: Start with a trip to the thrift store. 
Hmmm…. belts for webbing & hardware, neckties are dapper, bold and super unique. 
The finds: a couple of men's belts and a classic dressed necktie in bold red, blue and cream. Two square loops and a D ring upcycled from two of the belts, the sewing machine lugged to the kitchen table and the birth of the Atom occurred. 
It had wonky sewing (crazy driving as its coined around here) and didn't adjust, but it fit, looked BOMB and held up to wear and tear from Bender.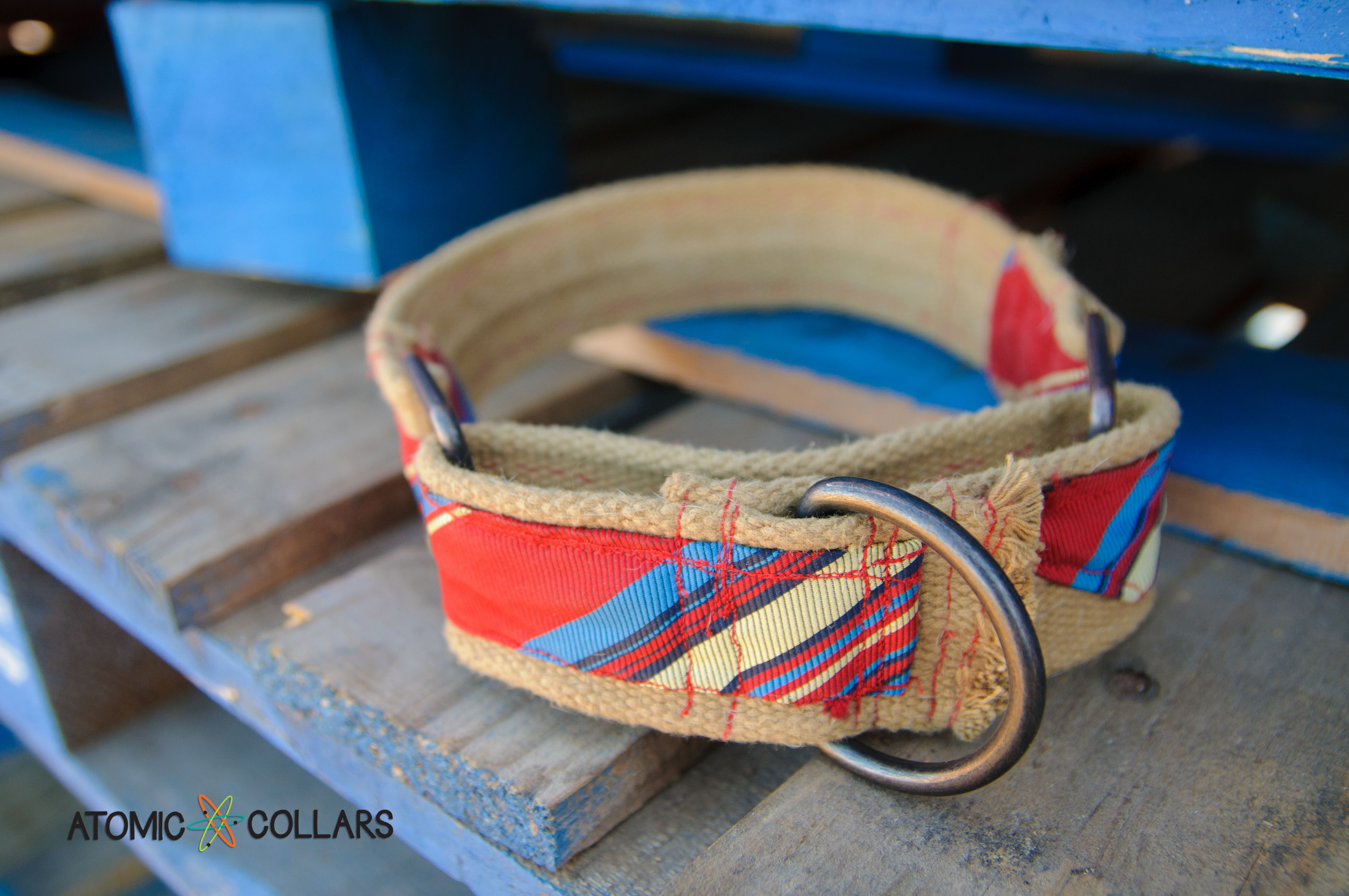 From the Atom split a plethora of collars, each featuring wide collar widths (the narrowest here is 1.5 inches) and unique patterns found no where else. Which lends to utterly unique collars, collars as unique as the dogs wearing them.
Above: 6 of the original collar patterns. Chaotic Celtic, Pixel & Chaotic shown were transitioned into the personal collection (both Pixel & Chaotic have offspring fabrics – they will be reintroduced soon!).